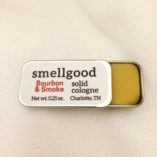 Solid cologne and perfumes have been around for many years but is making a comeback as more and more people look for a simpler approach to life.
We make each and every tin of Smellgood right here on the farm and we use only raw, unprocessed Tennessee beeswax in each batch.
We add a dash of jojoba oil to moisturize your skin and help stabilize our unique fragrance blends.
The names may be a bit humorous but we take the scents very seriously and spent years getting these scents exactly the way we wanted them.
We also leaned heavily on our soapmaking experience and feedback there as far as putting together our own blends of top, middle, and base notes in each tin of Smellgood solid cologne.
Smellgood Solid Cologne and Perfume Scents
Bourbon & Smoke — Think campfires, whiskey, and just a touch of sandalwood scent.
Cold Morning, Warm Stove — If the smell of cedar and wood-burning stove on a crisp, cold morning gets you going, this one is for you.
Dark & Stormy — This blend of vetiver, ginger, and patchouli conjures up a classic manly scent, with hints of orange, clove, and vanilla.
Lavender and Lilac — This classic floral scent is as fresh and light as a gentle spring breeze.
Lonesome Whippoorwill — Hints of blackberries, jasmine, grapefruit, and lemon wash over just like the sound of a lone whippoorwill at night.
Sasquatch — Like Sasquatch, this mysterious scent is hard to pin down but smells fantastic. Notes of pine and cedar evoke deep forests, with a light, sweet trace of secret spiciness.
Shave and a Haircut — This classic barbershop scent will take you back to a simpler time, with whiffs of lavender, peppermint, lemon, and sandalwood.
Up Jumped the Devil — A bedeviling mix of lavender, amber, myrrh, and musk offers a proposition that's hard to decline.