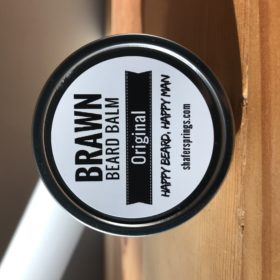 You've done all the hard work growing a great beard — let us help you give it that extra nudge so that it looks and feels amazing.
Our Brawn beard balm is a leave-in conditioner that is simple to apply. Just scoop out a pea sized amount, rub it between your fingers until it is soft, then work into your beard.
Brawn can be used with any length beard. It can help reduce beard itching by keeping the skin on your face healthy and moisturized — great for new beards — and it works to condition and gently shape longer beards.
Our beard balm contains a relatively small amount of beeswax, so don't expect it to sculpt your beard into crazy shapes.
How We Make Brawn Beard Balm
We tested, poked, and fiddled with the Brawn recipe for many months before settling on what we think is one of the best beard balms on the market.
Beeswax, cocoa butter, and shea butter provide the base of our recipe, working to keep your beard moisturized and healthy and provide just the right amount of hold to accentuate the natural shape of your beard.
We also use argan oil, jojoba oil, coconut oil, and sweet almond oil to stimulate beard growth and reduce itching, beard dandruff, and dry skin.
You won't find any parabens, artificial preservatives, or petrolatums in Brawn or in the labeling or packaging.
How To Use Beard Balm
Beard balm is best applied when your beard is still damp, with many men using it as part of their morning grooming routine.
Scoop out a bit, rub it between your fingers until soft, then work into your beard moving from the top down.
Brawn is a leave-in conditioner so simply apply it and let it work its magic.