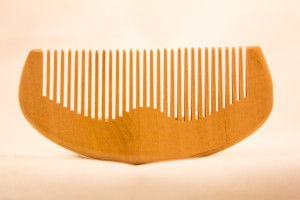 A wooden beard comb isn't as glamorous as beard balm or beard oil but it can be just as necessary for a great looking beard.
Regular plastic brushes or combs can generate static electricity in your beard, creating flyaway hairs that stick out in every direction.
Experienced beardsmen turn to wooden combs or boar bristle brushes which work to keep your beard tidy and tangle-free with no static electricity.
Smaller beard combs such as Lil' Peachy can be used for beards and mustaches alike, unlike larger wooden combs designed just for beards.
What to Look for in a Wooden Beard Comb
Combs aren't exactly rocket science but you should keep a few things in mind when picking a beard comb.
Wooden beard combs are the most popular and affordable choice but you can also find bone beard combs or even beard combs made from horns.
Your grooming needs will be different depending on your beard, with length the biggest difference.
Small combs like Lil' Peachy will work on a wide range of beards, although some men with huge beards prefer a beard comb with slightly wider teeth so that it slides through more easily.
Cost can also be a factor, especially if you're prone to losing things like combs and sunglasses.
Some men prefer smaller less expensive wooden beard combs like Lil' Peachy, as it's easy enough to buy three or four at a time and always have a backup handy.