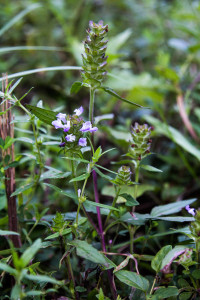 Self heal herb (Prunella vulgaris) is a perennial herb found widely throughout the world, and is also called all heal, allheal, and carpenter's herb.
Plantain (Plantango major) is a perennial herb that is native to Europe but has been spread throughout the world. It is highly valued by many different cultures for its medicinal properties.
Best known for its ability to heal wounds, self heal produces many different chemicals and compounds and has shown promise as an anti-bacterial and in the treatment of allergies and auto-immune diseases.
Plantain is often used as a poultice to ease irritation and pain from stings and cuts and naturally contains high levels of anti-microbials.
Plantain also produces allantoin, a natural compound shown in many studies to be effective in promoting new skin cell growth and tissue regeneration.
Our Stitch healing salve pairs both those herbs with nourishing and restorative oils and butters such as shea butter, cocoa butter, coconut oil, and rice bran oil.
FDA Disclaimer: These statements and products have not been evaluated by the FDA. They are not intended to diagnose, treat, cure, or prevent any disease or condition. If you have a health concern or condition, consult a physician.