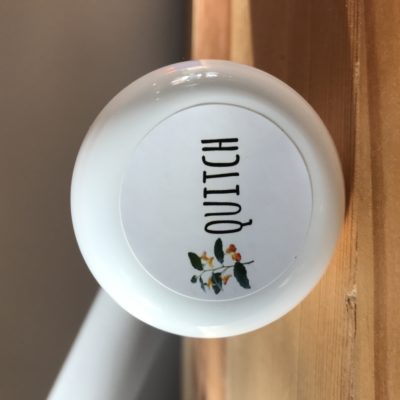 Jewelweed (Impatiens capensis) is native to North America, with orange jewelweed most commonly used in salves and creams.
You might know jewelweed by the name "touch-me-not", as its seed pods have projectile seeds that explode and pop when they are touched or brushed against.
Jewelweed contains high levels of naphthoquinones, which are naturally-occurring compounds that can be effective topical anti-inflammatories and fungicides.
Naphthoquinones have shown effectiveness in some studies in counteracting urushiol, which is the oily organic compound present in poison ivy, poison oak, and poison sumac.
How To Use Jewelweed Salve
Most jewelweed salves are designed to be used for poison ivy but we also add in broad-leaf plantain (Plantago major) to each batch of Quitch that we make on the farm.
Customers use Quitch for poison ivy but also for cuts, scrapes, bug bites, and stings. Simply scoop out a bit of Quitch with your fingers and then rub into the affected area — a little bit goes a long way!
We never add any alcohols or preservatives and the base for our jewelweed salve recipe (coconut oil, shea butter, cocoa butter, and rice bran oil) is loaded with skin-friendly moisturizers.
FDA Disclaimer: These statements and products have not been evaluated by the FDA. They are not intended to diagnose, treat, cure, or prevent any disease or condition. If you have a health concern or condition, consult a physician.