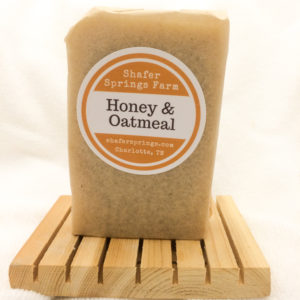 Honey and oatmeal are the perfect pair for an exfoliating soap, with honey acting as a natural humectant and finely ground oatmeal serving as a gentle exfoliant.
Our honey and oatmeal soap can be used daily without any of the abrasive or harsh action some exfoliating soaps offer.
How We Make Our Honey and Oatmeal Soap
We make all of our handcrafted soaps in our trusty 5 lb wooden soap mold, which produces about 20 bars of soap that we cut by hand.
We cure our honey and oatmeal soap and all of our soaps for a minimum of six weeks. That ensures that you get a gentle, stable bar of natural soap that lathers up richly from the very first time you use it.
We balance all of our soaps to clean and lather well but to also be long-lasting. If used with a soap dish and kept dry between uses many of our soaps will last for several months.