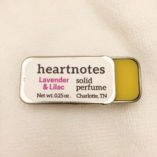 Solid perfume has been around for many years but is rapidly rising in popularity as people turn to simpler products with far few ingredients, preservatives, and artificial chemicals.
The appeal of a solid perfume is simple to see, as you can take your favorite scents with you wherever you go without having to worry about a fragile glass bottle as with a standard perfume.
Heartnotes Solid Perfume Scents
Barefoot Bliss — summer scents and a touch of sandalwood will have you skipping through the grass.
Frisky & Footloose — ginger adds some spice to this one, with bergamot giving it a crisp finish.
Gardenia Breeze — floral fans will enjoy the warm Southern breeze packed into this one.
Jar Full of Fireflies — this honeysuckle and jasmine scent will take you back to simpler days chasing fireflies at dusk.
Jasmine & Moonshine — kick back and let this sweet, sharp fragrance wash over you.
Lavender & Lilac — this traditional Southern scent is like stepping back in time.
Lonesome Whippoorwill — hints of blackberries, jasmine, grapefruit, and lemon wash over just like the sound of a lone whippoorwill at night.
Southern Tradewinds — coconut and lemongrass will have you dreaming of hopping on a boat and heading south.