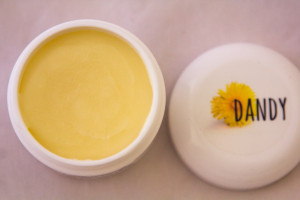 Dandelion (Taraxacum officinale) is a perennial herb that grows throughout the world and has a very long history of medicinal usage, with its anti-inflammatory nature making it a great choice for topical creams and salves.
Dandelion leaves and roots are used in teas and herbal coffees while leaves and flowers are often included in salves and other topical treatments.
Dandelions contain several different pharmacologically active compounds, including high levels of flavonoids, glycosides, and inulin.
How We Make Our Dandelion Salve
We wild harvest dandelions that grow on the farm and solar infuse them in rice bran oil. This draws out the various herbal components without using alcohol or harsh chemical extraction processes.
We blend that infused oil with shea butter, coconut oil, cocoa butter, and beeswax to create the base for our dandelion salve and then add jojoba oil — a skin-friendly oil used in many high end cosmetics.
We then add essential oils such as tea tree oil, peppermint oil, lavender oil, and rosemary oil that all have a very long history of use for skin care.
We hand-whip each batch of Dandy before adding it to jars to give it a lighter consistency than many other salves and creams, making it smooth and easy to apply.
We don't dilute Dandy down by adding water or aloe vera gel or other "fillers" and preservatives that creates more volume of product to sell but reduces the potency of the natural ingredients.
How To Use Dandy Hand Salve
We originally made our Dandy dandelion salve as a natural remedy for dry, cracked hands but customers use it in a variety of ways.
Dandy can be used on hands and feet as a night time moisturizer as well as a hand salve after gardening work.
We don't market it as a treatment or cure for eczema or psoriasis but some customers have had great success, especially in spot treatment of eczema flare ups throughout the body.