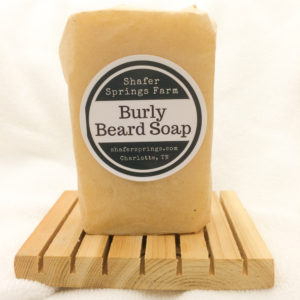 Beard soap may seem simple but getting our recipe for Burly just right took many months of tinkering and experimentation.
Shampoo soap bars can be tricky as you need conditioning and just the right amount of cleaning power.
Too much cleaning power or too high of a pH and you end up with a soap that can strip away oils from your hair and leave you with dry, brittle hair.
Burly avoids that by using natural oils that are very high in linoleic, oleic, and ricinoleic essential fatty acids.
This adds conditioning and a rich lather, with coocnut oil providing just the right amount of cleaning power.
How to Use Beard Soap
Using beard soap is easy. Just rub the bar between your hands to produce lather, then work the lather into your beard.
Let it sit in your beard for a few minutes, then rinse out. We recommend washing your beard with our beard soap every 2-3 days, as some beards can dry out a bit with more frequent soaping.
Burly Beard Soap ingredients: Olive oil, spring water, canola oil, sodium hydroxide, castor oil, shea butter, argan oil, cocoa butter, patchouli oil, and cedarwood oil.