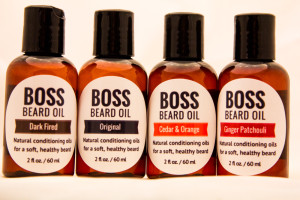 Our Boss beard oil doesn't mince around when it comes to helping you grow a great beard.
We load up every two ounce bottle with almond oil, argan oil, jojoba oil, and evening primrose oil to give you nourishing beard fuel at a fraction of the cost of competing products.
Boss can not only produce a softer, healthier beard due to its high conditioning factor but it also moisturizes and hydrates the skin below.
Healthier skin means far less flaking, itching, and beard dandruff.
How to Use Beard Oil
Beard oil is simple to use and Boss is packaged in a sturdy two ounce plastic bottle that travels well.
Start by squeezing out a dime-sized dollop in the palm of one hand, then work between your palms to coat your fingers.
Apply the oil with your fingers, starting at the top and working your way down.
Use a little pressure and massage Boss into both your beard hair and your skin.
Just like with beard balm, Boss is best applied when your skin and beard is warm and damp. Most men apply beard oil in the morning after a shower as part of their grooming routine but it also can be used throughout the day.
You can also give your beard a quick brush or combing with a beard comb after applying oil to ensure that it is evenly distributed throughout your beard.