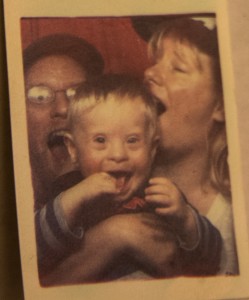 We'd always dreamed of having a farm and took a big step towards making that dream a reality when we moved to middle Tennessee in December 2014.
Seth grew up in Tennessee and has family there, so the move to Tennessee meant that the Shafer clan not only got to experience farm life but that Sawyer would get to grow up next door to his grandparents and spend lots of time with aunts, cousins, and other family.
Seth and Sarah had lived in Texas and Malta before Sawyer came along. Sawyer was born in California and we moved to Tennessee right before he turned two.
Since the move we've been very busy getting started with building our house on the farm and expanding the handcrafted products we sell.
We donate a portion of all sales to the Down Syndrome Association of Middle Tennessee, which has been an amazing resource for us and has many great programs for children and adults with Down Syndrome.
Our long-term goal for Shafer Springs Farm is to eventually grow the farm into a thriving, self-supporting non-profit that provides employment and enrichment opportunities to adults with Down Syndrome.