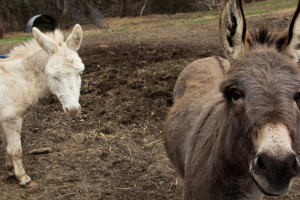 We've always loved miniature donkeys — and even had some serving beer and chips at our wedding! — and they were the first animals that we added to the farm.
Ice is a registered miniature blue-eyed white ivory donkey, who was originally from Furball Acres and came to us by way of TK's Mountain Ridge Farm.
Buttons isn't registered but she's a sweetheart and loves attention.
Our first mini donkey baby Pete was born in January 2016. Buttons rejected him so Petie has been bottle feed and is already a big hit on the farm.