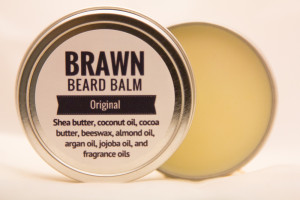 Learning how to use beard balm such as Brawn couldn't be simpler but the world of beard balm and beard oil can be confusing at first.
Beard balms and beard oils have a similar goal. Each works to give you a thicker, fuller, softer beard with healthier skin beneath.
The path to that goal is a little different, however, and each shines in certain areas.
That's why many bearded gentleman use both beard balm and beard oil as part of their daily beard grooming routine.
How to Use Beard Balm
Beard balms use different recipes but the basic idea is the same. Scoop some out, rub it between your fingers until it is soft and liquid, and work it into your beard with your fingers.
Most men simply use their fingers to apply balm but you can also use a wooden beard comb or brush if you prefer.
It is best to apply your balm when your beard and skin is warm and damp as your hair and skin will absorb the most natural goodness from the oils and butters.
That makes right after your morning shower a perfect time to apply beard balm. Some men do apply it throughout the day or before going out for a night on the town, and it can be applied to both wet and dry beards.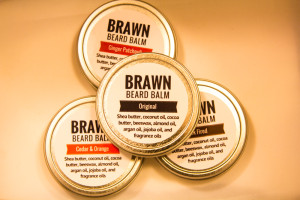 Our Brawn beard balm contains conditioning and moisturizing oils and butters as well as local Tennessee beeswax.
The beeswax is important, as it locks in conditioners and moisturizers so they can work their magic but also provides a protective barrier and helps you gently shape your beard and slick down flyaway hairs.
Don't expect most beard balms to allow you to shape your beard into crazy shapes or swirls.
They are balms, not sculpting waxes — the mission of a good beard balm is to act as a natural leave-in conditioner for your beard and skin.
One tip for how to use beard balm is to not be shy about working your balm into both your beard and skin below.
Massage it in good, as many of the skin-friendly oils included are designed to help keep the skin of your face moisturized and conditioned.
Healthy skin means less itching and flaking below your beard, giving you a smooth, healthy base for an amazing beard!