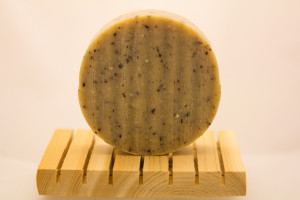 People have been making handcrafted soap for thousands of years although most early soaps were basic and functional.
Artisan soaps are a much newer phenomenon as interest has exploded for unique, handmade soaps that use a wide palette of ingredients, colorants, scents, and shaped molds.
Let's take a quick look at some of the artisan soap available and what to look for when shopping for handcrafted soaps.
Types of Artisan Soap
Artisan is a fuzzy word that means different things to different people, but the dictionary suggests that an artisan is:
"…a person or company that makes a high-quality or distinctive product in small quantities, usually by hand or using traditional methods."
That's a perfect description of the traditional cold-process method of making soap, where soap-makers combine lye with animal fat or vegetable oil to create soap in small batches.
Artisan soaps are often poured into a wooden mold, allowed to harden, and then cut by hand. Most soaps are then cured for four to six weeks.
Some of the major types of artisan soaps include:
Scented soaps: Soapmakers can use essential oils or fragrance oils to create their own unique aromas and scents.
Shaped soaps: Soap will take the shape of the mold it is poured into and a wide range of molds — rectangular, circular, and heart-shaped — are available.
Herbal soaps: Natural herbs can be added to a soap recipe for specific purposes such as jewelweed soap or Calendula soap.
Specialty soaps: Soaps can also be made for a specific purpose in mind, such as exfoliating soaps, shaving soap, or shampoo bars.
More often than not, artisan soap will span several of the above categories, such as a honey-scented shaving soap with plantain added or an exfoliating cornmeal and Calendula soap.
Why Buy an Artisan Soap?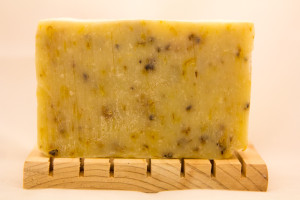 You typically pay more for an artisan soap but as the name suggests, what you get is more a work of art than a mass-produced soap bar loaded with artificial chemicals.
Most artisan soaps are made from all natural ingredients and carefully crafted to be quite gentle.
Lye soap was historically harsh and abrasive but lye calculators give soapmakers control over the saponification process so that all the lye is converted into soap and only beneficial oils and butters remain.
Artisan soaps also give you far more options in tackling unique skins types than commercial soaps.
Herbal soaps can help with certain types of inflammation and skin conditions, while different proportions of olive oil, coconut oil, and shea butter may work better for certain skin types.