We're blessed/cursed with a ton of wild blackberries on the farm, which love to grow up around fence rows between fields.
If you've tasted wild, ripe blackberries you understand the blessing part.
If you've battled thorns, ticks, chiggers, mosquitoes, and the summer heat to pick wild blackberries, you understand the curse part.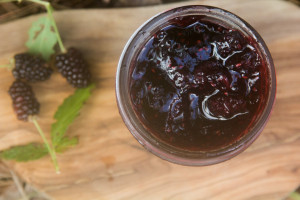 Wild blackberries in middle Tennessee are also feast or famine — they ripen quickly and are around for a few weeks in July and that's it.
Gathering blackberries is a hard fought battle but it is one worth fighting, as the taste is so much better than commercial blackberries.
Below you'll find our own blackberry ginger jam recipe, but a few quick notes about it first.
1. If you don't have enough blackberries to make a full batch, the basic ratio we use is 1 cup of mashed blackberries to 1 cup of sugar to 1 tablespoon of dry pectin.
2. You don't have to macerate the blackberries if you're in a hurry but it really is worth a little extra effort. If you do macerate, only use a portion of the total sugar the recipe calls for — your jam will set better if you add the bulk of the sugar all at once as outlined in the recipe.
3. Crystallized ginger is becoming easier to find and most grocery stores will have it in the spice aisle. If you can't locate any (or aren't a fan of ginger), skipping it is fine as the resulting blackberry vanilla jam is pretty tasty as well.
4. Our recipe calls for Demerara sugar but you can use granulated sugar or pure cane sugar if you prefer.
---
Blackberry Ginger Jam Recipe
Ingredients:
5 cups of mashed blackberries (not completely pulped or blended but mashed roughly with a potato masher)
5 cups of Demerara sugar
1 tablespoon of pure vanilla extract
1 tablespoon of finely chopped crystallized ginger
1 package of dry pectic
Instructions:
1. Mash up the blackberries in a large bowl, add half a cup of the sugar, stir thoroughly, cover, and let it macerate (i.e. sit there) overnight in the fridge.
2. Heat the blackberries and sauce in a large pot on high heat and add the pectin slowly. Add 1 tbsp of pure vanilla extract and 1 tablespoon of finely chopped crystallized ginger and stir thoroughly.
3. Measure out the rest of the sugar (4.5 cups) into a bowl.
4. When blackberries come to a full boil, add all of the sugar at once and stir.
5. Bring the mixture back to a full boil and boil for one minute.
6. Remove from heat and ladle into jars, leaving 1/4 inch headspace.
7. Finish in boiling hot water bath for at least ten minutes.
---