We're pretty proud of our Brawn beard balm — and would love to sell you some — but we also appreciate the can-do attitude of anyone who wants to learn how to make beard balm.
Making your own DIY beard balm at home is very easy once you rustle up the necessary ingredients and settle on a beard balm recipe you like.
We'll start with the basics that you need and take it from there, with a good basic beard balm recipe to get you started.
How to Make Beard Balm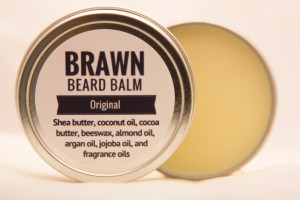 You'll need some beeswax, as most beard balms use beeswax as the primary ingredient to give it hold and to tame flyway hairs.
You can use either white or yellow beeswax and chunks of raw beeswax or beeswax in pre-formed pellets work equally well.
Beeswax may be easy or hard to find depending on where you live but it's readily available online.
We like to use Mountain Rose Herbs for ingredients we can't source locally and you can buy beeswax there as well as most of the other ingredients mentioned here.
You won't need much beeswax, so aim for getting just half a pound or less to start out.
You'll also need some butters and coconut oil for the base of your balm. This is where you can experiment and where personal preference comes into play.
Commonly used butters in beard balms include cocoa butter, shea butter, and mango butter, along with coconut oil (which behaves more like a butter than oil due to its consistency).
The beeswax and butters are the heavier, solid part of your balm. Use a lot of them and your final product will be heavier and provide more hold; use less and your balm will be lighter.
Next up are carrier oils. The sky is the limit here, as many different natural oils are available and each has its own unique benefits and characteristics.
Common carrier oils used in beard balms include argan oil, jojoba oil, rice bran oil, hempseed oil, avocado oil, castor oil, olive oil, almond oil, and sunflower oil.
You'll have to experiment to find which you prefer in your quest to learn how to make beard balm, so it's usually better to buy carrier oils in small amounts at first until you settle on your favorites.
Last but not least are essential oils and fragrances that you might add to your balm.
Just like the other ingredients, this one is more a matter of personal taste than anything else as far as any fragrances or essential oils you want to add, with hundreds of different scents available.
You'll also need containers to put your finished balm in. Screw tins work great and come in handy two ounce sizes but there's nothing special about the container if it's for your own personal home use.
How to Make Beard Balm – A Basic Recipe
Here's a quick and simple beard balm recipe to get you started. This will make about 6 ounces of beard balm, which will last most bearded gentlemen two to three months if they apply it daily.
Ingredient list:
2 tbsp of beeswax
4 tbsp of coconut oil
2 tbsp of shea butter
5 tbsp of almond oil
10 drops of your favorite essential oil for scent (check out Mountain Rose Herbs to order essential oils online)
Digital scale (this is optional but it's easier and more accurate to use weight measurements in your recipe, so if you have a scale convert the tbsps mentioned here using your scale and use that moving forward)
You'll melt down the solids (beeswax, coconut oil, and shea butter) in a double boiler on your stove. That sounds fancy but a basic and functional double boiler can be a pot of water with a can sitting in it, holding the ingredients.
You don't want to heat beeswax and other ingredients with direct heat, so put your ingredients in a clean can or container that you don't mind getting waxy, and place that in a pot with a little boiling water in the bottom.
When your solid ingredients have liquified, add the almond oil and any essential oils and stir well.
Carefully pour your batch of liquid beard balm into the container you're going to keep it in and let it cool and harden.
You're done!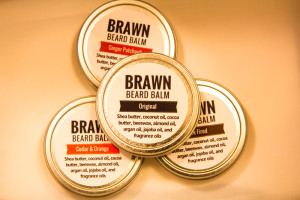 If you want to experiment from the base recipe, sally forth and do so.
You'll want your solids (beeswax, butters, and oils like coconut oil that are solid at room temperature) to be about 2/3rds of your balm, with carrier oils the remaining 1/3.
So if you wanted to add hempseed oil to the basic recipe, you might use 3 tbsp of almond oil and 2 tbsp of hempseed oil for your carrier oils.
If you want more hold in your balm, increase the amount of beeswax; decrease beeswax for less hold.
Using a digital scale and converting the recipe to grams or ounces is likely a good idea if you get hooked on beard balm and produce a lot of it; we present tbsps here just because not everyone has a scale when starting out.
If all this sounds like far too much work and you'd just rather buy an awesome beard balm for less than $10, then we'd love to sell you some of our Brawn beard balm!